The Royal Collection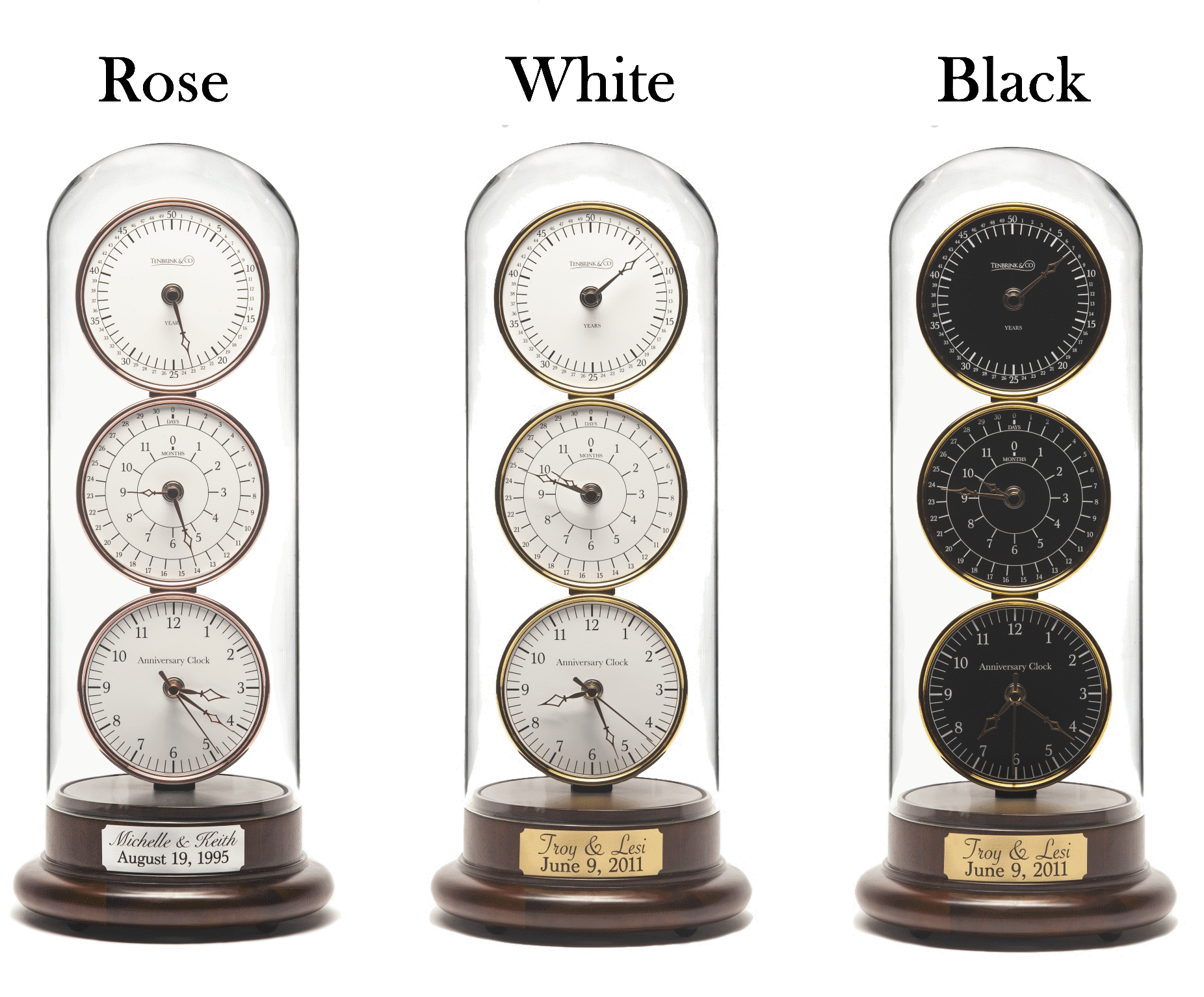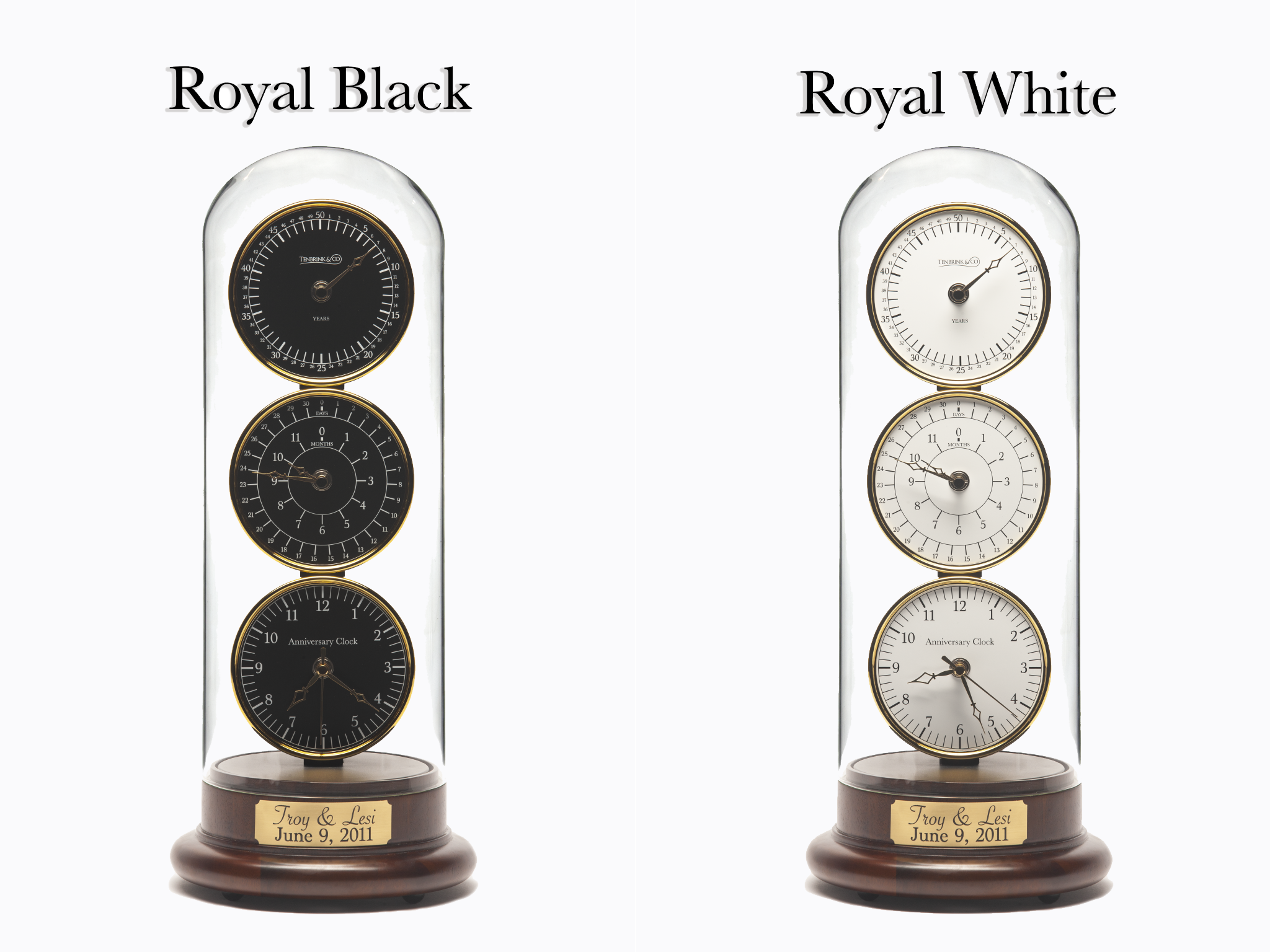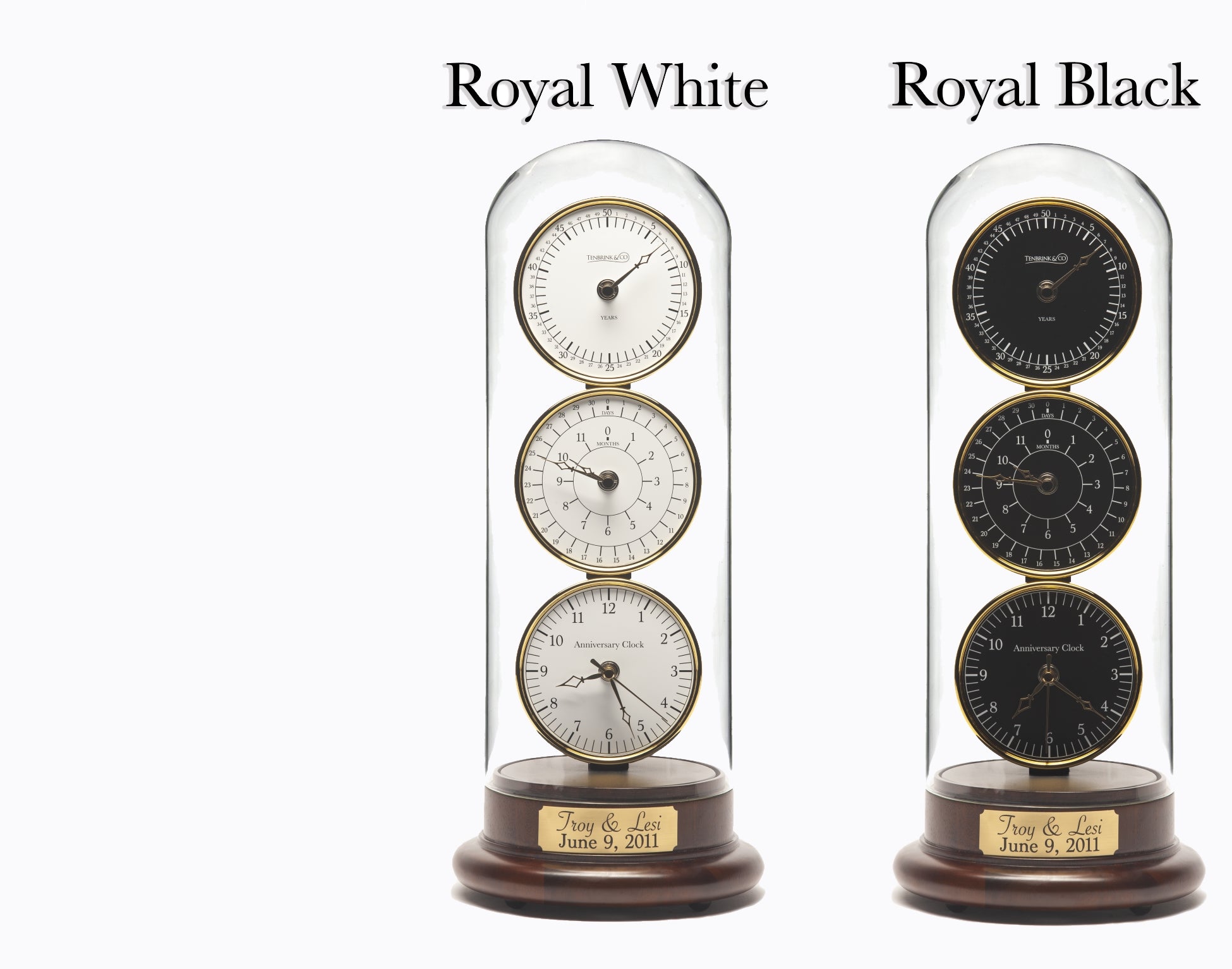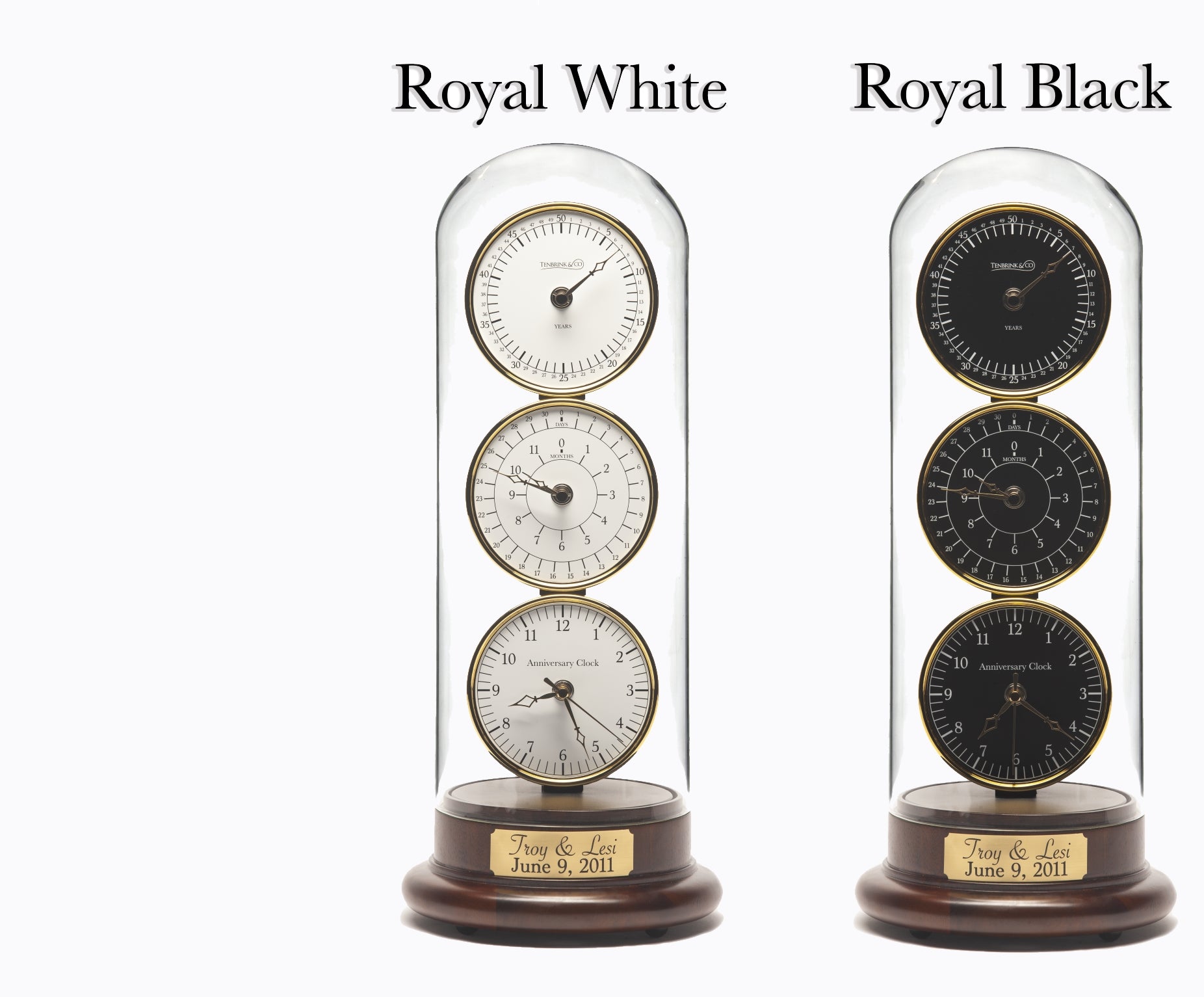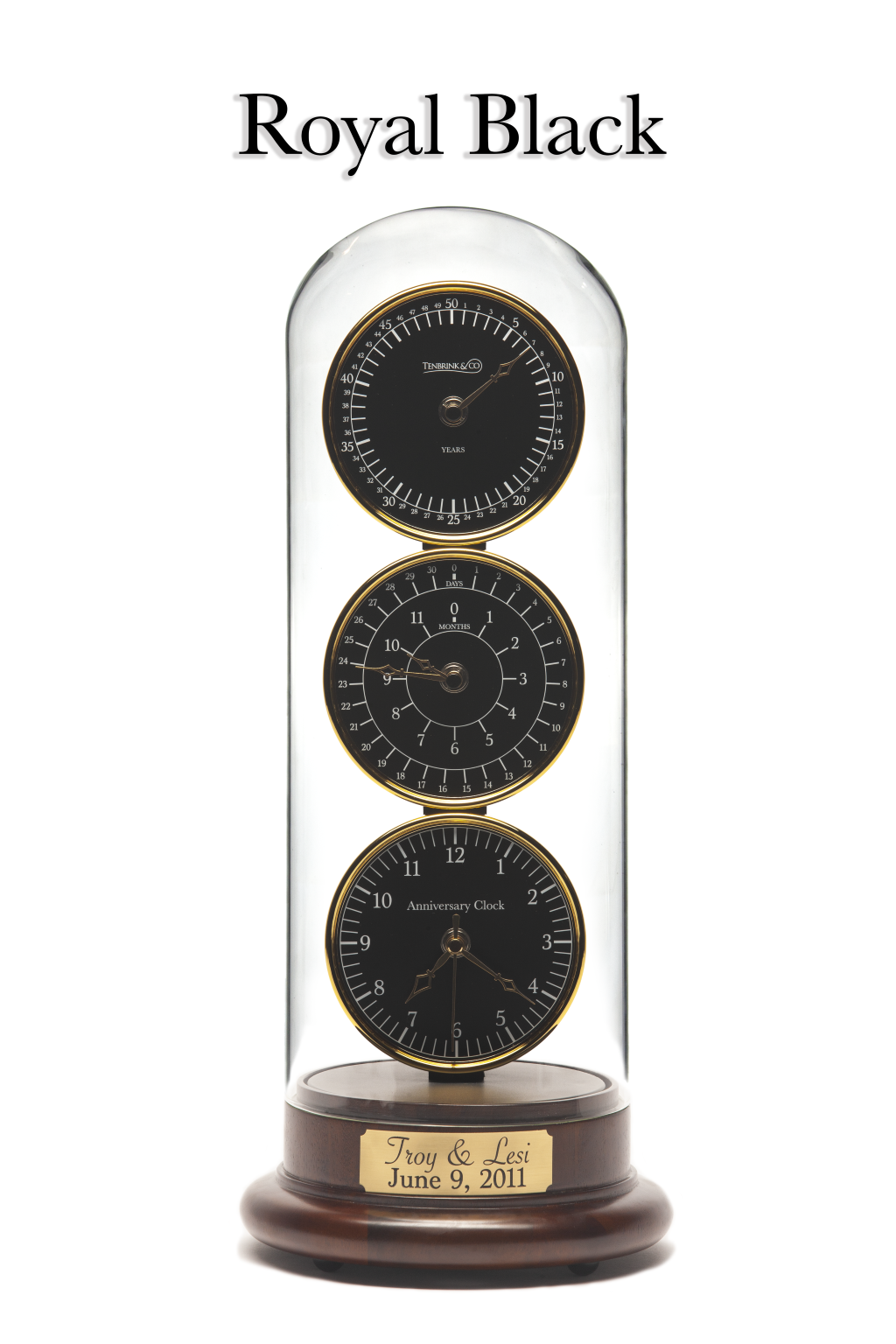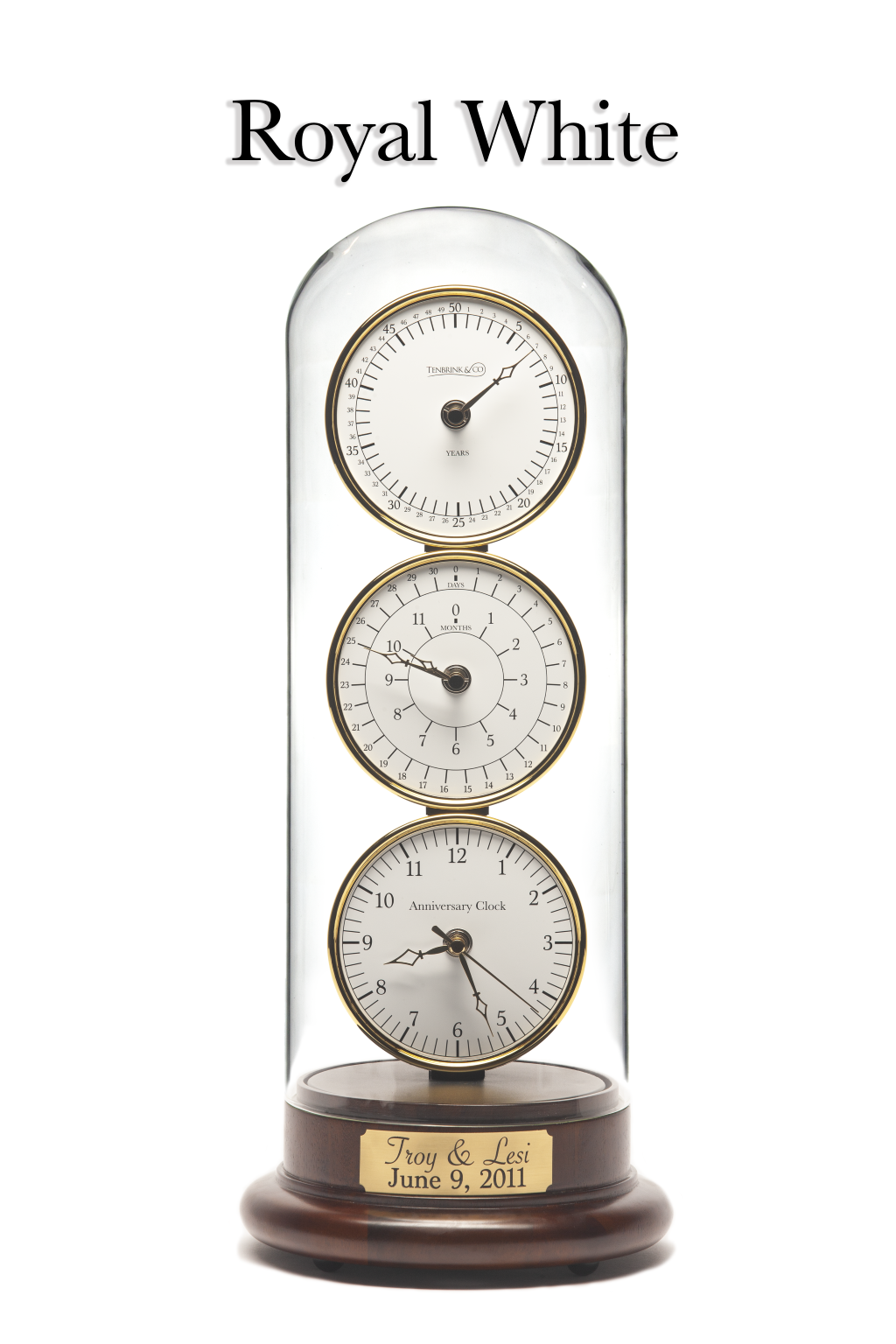 Details
Please note the Clock comes discreetly boxed so you can order ahead of your special day and keep it a surprise!
The Royals Collection comes trimmed in elegant gold rings with a white or black face.  This is our modern look and pairs very well with most decor.  It includes our gorgeous 100% mahogany base as well as the following:
Included:
100% Mahogany Base in standard, light or dark stain options.
Engraved Nameplate with your Names and date
SD card and adapter to load your own MP3
Beautiful Gift ready box
Optional:
The Anniversary Clock is a timeless piece dedicated to celebrating our most cherished memories and events. Our exclusive clock stands 18 inches tall with 3 vertical clock faces showing the exact time you have celebrated your wedding, anniversary or other cherished events.
The clock mechanisms, faces, and hands are made by a Master American Clock maker with over 50 years experience in crafting incredible timepieces. Our clock face is fashioned using the same techniques as watch and clock manufacturing and is pressed into a sturdy alloy mold to ensure this design lasts the test of time.
The top face of The Anniversary Clock depicts the years, the middle face the months and days, and the bottom face functions like a traditional clock showing the hours, minutes and seconds. At a glance, you will always know the exact time to the second since your special day or event occurred as you treasure the memory.
The clock dome has been designed with custom blown glass giving the clock an amazing look and feel.

100% sustainably sourced Mahogany wood base hand crafted in 4 different styles.
The base of The Anniversary Clock holds the electronics as well as an LCD screen with buttons to program your time and date.
SD card memory slot where you can load a MP3 music file of your special song. Built in speaker will then celebrate your special day by playing your song on your anniversary.

Press the red button on the back and play your special song anytime you want! (note battery life will diminish based on use)

Wood base crafted in 4 different styles.
Powered by AA batteries with power saving mechanisms made to ensure the clock will run for at least a year before needing replacement.  

Expertly crafted with a solid state memory to remember your special date when the batteries are being changed.

The second hand will move two ticks to indicate batteries need to be replaced.
US Patent Pending
UNIQUE FEATURES OF OUR ANNIVERSARY CLOCK